Sherm's Thunderbird Market Inc.
Recipes
https://2522.retailer.unified-web.com/Recipes/Detail/4036/Vanilla_Scones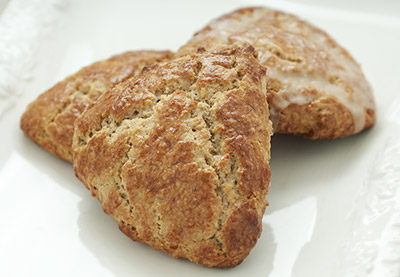 Vanilla Scones
Yield: 8 servings
Preparation Time: 15 min; Bake: 15 min
Ingredients
3
cups

all purpose flour

3
teaspoons

baking powder

1/2
teaspoon

baking soda

1/2
teaspoon

salt

1
cup

(2 sticks) cold butter, cut into tablespoons

1

egg

1
cup

vanilla yogurt

1/2
teaspoon

vanilla extract

2
teaspoons

milk

Granulated sugar

Glaze:

1 1/4
cups

powdered sugar

3
tablespoons

milk
Directions:
Preheat oven to 425 degrees F

In a large bowl, combine flour, baking powder, soda and salt; cut in butter using a pastry blender or two knifes (in a scissor motion) until the mixture resembles coarse crumbs.

Stir in egg, yogurt and vanilla just until combined. Turn onto a floured surface; knead 6-8 times.

Roll into a 9-inch circle; cut into eight wedges. Place on an ungreased baking sheet. Brush tops with milk; sprinkle with sugar. Bake for 12 to 15 minutes or until golden brown.

Serve warm drizzled with glaze or plain.

Glaze:
In a small bowl, stir milk into powdered sugar. Add more milk (1 tbsp at a time), if needed to achieve desired consistency.

Please note that some ingredients and brands may not be available in every store.
Sherm's Thunderbird Market Inc.
Recipes
https://2522.retailer.unified-web.com/Recipes/Detail/4036/Vanilla_Scones